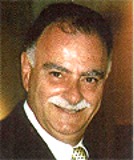 John M Lovett AM
(10 July 1943 – 30 October 2003)
John was a former Australian government administrator who made the breakthrough in the development of deaf sports in Australia. He was also the former President of the International Committee of Sports for the Deaf, served as the 7th president from 1995-2003 until his death.
At the recent 2012 Australian Deaf Games, Deaf Sports Australia changed the name of the Australian Deaf Sports Federation Cup to the John M Lovett Cup. Victoria won the Cup, with the Deaf Sports Recreation Victoria president accepting the Cup at the closing ceremony. John M Lovett was a deaf Victorian who put Australia on the world map of deaf sports and became the sixth president of International Committee Sports for the Deaf (ICSD). He was part of a small group who encouraged Australia to bid to host the 20th Deaflympics which took place in Melbourne in January 2005.
Unfortunately, he died before 2005 so never got to witness the Games in Melbourne. The 2005 Games was said to be one of the best ever in the history of the Deaflympics with 63 nations and 2,000 athletes paying respect to John at the opening ceremony. John continues to inspire deaf sporting Australians and the John M Lovett Cup is a reminder to us of this unique man.
John Lovett was awarded the Order of Australia by the Australian government for his immense services to the country's development in deaf sports, especially in Deaflympics. He was married to a former British Deaflympic swimmer, Jill Diana Lovett.
He was awarded DSA life membership in 1993.
Bruce R Muller JP
Bruce was Australian Deaf Sports Federation (Deaf Sports Australia) Board member from 1978 – 1998 and President from 2001 – 2003.
He was involved with the South Australian Deaf Sports and Social Club (now known as Deaf Community and Sport South Australia) Inaugural Treasurer – 1984 -1992, board member 1992-1997.
He received the Australian Sports Medal (2000) and Order of Australia (OAM)  in 2014.
He was awarded DSA life membership in 1993.
Dorothy Griffiths
(Deceased)
Dorothy was instrumental in the formation of the Australian Deaf Women's Lawn Bowls Association in 1970 -71. Dorothy (Duffy) Griffiths was Secretary from 1971 to 1993 and become President until 1997. Duffy attended every Australian Deaf Games from 1971 till 1995.
She was awarded DSA life membership in 1995.
Cindy-Lu Fitzpatrick OAM
(nee Bailey)
Cindy-Lu is a former Australian deaf swimmer who has represented Australia in both Commonwealth Games and in Deaflympics. She is considered to be the most decorated woman in Deaflympics history with a record haul of 29 medals, which is the highest among women in Deaflympics.
Cindy-Lu is also one of the greatest swimmers of Australia in history. She represented her country at two Commonwealth Games (1982, 1986), two Pan Pacific Games and competed at 6 Deaflympics Games over a 20 year period (1977-1997). She was ranked in the top 16 on the 1982 Speedo World Rankings list.
At national level, Cindy-Lu held the Australian title in the 100/200 m breaststroke double in 1981, 1982 and 1986. In 1983 she held the 200m title at the Australian titles. At the Deaflympics she dominated winning the 100/200 m breaststroke double at 5 successive games from 1981 till her retirement from international swimming in 1997 and won 19 gold, 4 silver and 5 bronze medals. During this time she broke 18 Deaflympics records.
Her record haul of 29 medals is also the third most by a Deaflympic athlete (among men and women). Her medal tally of 29, is also the highest medal count for Australia in Deaflympics history.
She was awarded the Order of Australia Medal in 1985 for her services towards the sport. In 2002, she became the only woman to be inducted into the New South Wales (NSW) Hall of Champions.
At the 2005 Summer Deaflympics held in Melbourne, Cindy-Lu was given the honour of lighting cauldron and was announced as one of the 'Legends of the Games.' She was also a torchbearer during the 2000 Summer Olympics.
In 2013, she voted as one of Australia's Top 100 sportswomen of all time.
Cindy-Lu is an assistant Technical Director of swimming for the International Committee of Sports for the Deaf.
In 1985 she was awarded the Medal of the Order of Australia (OAM) and in 2001, she was a Deaflympics Medal of honour winner.
She was awarded DSA life membership in 1997.
Benjamin Taylor OAM
(Deceased)
Ben was involved with deaf cricket and soccer clubs in NSW and Australia for over 50 years.
When the Deaf Centre, including the bowling green, opened at Stanmore in 1975, Ben was the NSW President of the Deaf Lawn Bowls Association. With all of Ben's involvement in the activities of the NSW Deaf community, he joined the Deaf Society Board of Directors, from 1980 till 1989. He was made a life member in 1989.
He was also a member ADSF Board from 1986 – 88.
He was awarded DSA life membership in 1998.
Anne Bremner AM
Anne has been a passionate supporter of deaf sports for over 50 years. She joined the local netball team and went on to represent Australia in Deaf teams against New Zealand and Great Britain.  Anne and her Aussie basketball teammates earned a bronze medal at the 1985 Games in Los Angeles, California.  She was then selected to coach the Aussie basketball team at the 1989 Deaflympic Games in Christchurch, New Zealand.
Anne was actively involved on many deaf sporting committees. She joined the DSA (ADSF) Board and subsequently became President (1996-99). She is a Life member Deaf Basketball Victoria and was 2005 Melbourne Deaflympics Assistant Technical Director, Basketball.
She worked as ADSF Administrator from 1990-1993. She has also authored papers including Coaching Deaf Athletes, published in 1992 and completed her Master's Thesis on Deaf sports in Australia in 1996.
She was awarded DSA life membership in 2010.
Wendy Home
In 1978, Wendy was involved in the formation of a national deaf soccer body. In 1985 she was President, Deaf Sports and Social Clubs of Queensland and later became involved in deaf golf.
In 1988, she was the first administrator of Asia Pacific Deaf Sports Confederation's 3rd Football Championship in Melbourne, Australia.  She joined the ADSF Board in 1994 until 1999.
Wendy was Australian Deaf Golf team manager at World Deaf Golf championships and was President of Deaf Golf Australia until 2018.
In 1997 she was awarded the Deaflympics Medal of honour.
She was awarded DSA life membership in 2010.
David Peters
David Peters has been passionately involved with deaf sports (local, national and international) and Deaf Sports Australia including President and board member for over 40 years.
He became involved with sporting clubs as the secretary and committee member in the 1970s, and later became the Australian Deaf Squash Association secretary.
He took part in 15 Summer and Winter Deaflympics since 1983 as a team official as well as International Committee of Sports for the Deaf (ICSD) Congresses and assisted the DSA in the successful bid to host the 2005 Deaflympics in Melbourne.
He is currently Secretary of the Asian Pacific Deaf Sport Confederation.
David was awarded the Deaflympics Medal of Honor, 2009 and also Deaf Australian of the Year, 2013.
He was awarded DSA life membership in 2012.
John Webb OAM
John Webb is a keen sports person and his passion has always been with cricket. He was one of the pioneering leaders of deaf cricket in Australia and has been a player, coach, selector, and mentor for more than 50 years. John was instrumental in setting up the first Deaf Cricket World Cup.
He was recognised for his service to people with a disability through sport with a Medal of the Order of Australia (OAM) in 2019.
He was awarded DSA life membership in 2010.
Anthony (Tony) Gorringe OAM
Tony has been a member of the Orange City Bowling Club member since 1972, and also taking a leading role in deaf lawn bowls, which has its own rules and forbids hearing aids to avoid unfair advantages.
He became an administrator of Deaf Lawn Bowls NSW in 1984 and president in 2008, first serving as a team manager for the Australian Deaf Games in 1986 until 1996. He is still the President there today. Later, he became the Australian team manager for the International Deaf Lawn Bowls Championships in 1993 and an administrator at Deaf Lawn Bowls Australia in 2008, taking on the presidency in 2012.
During that time, he served as vice-president of the International Deaf Lawn Bowls Federation and directed the sixth annual International Deaf Lawn Bowls Championships in Perth in 2011. He's also held roles with Deaf Bowls Australia and the International Deaf Bowls Federation and is now part of the Orange City committee in 2020, too, taking on the role of Bowls Secretary.
Tony was a deserving winner of the 2020 Distinguished Long Service Awards presented by NSW Deaf Sports.
He was awarded DSA life membership in 2014.
Annabel Bishop
Annabel involvement in deaf swimming championships began in 1981 as an Australian team swimmer for the Deaflympics competing in Germany at the age of 16.  She achieved medals at 3 Deaflympics (1981,9185 and 1989).
On retirement, she became involved in administration for Deaf Aquatics Australia (DAA) until recently.  As part of her role as an administrator in DAA, she encouraged young Deaf and Hard of Hearing swimmers to get involved in mainstream swimming meets and disability swimming meets, as well as World Deaf Swimming Championships and Deaflympics.
Her role with DAA, included co-ordinating and liaising with Deaf Sports Australia and Australia Swimming in terms of supporting the Deaf Swimming Team.  This included fundraising, promoting and acting as team manager (as well as mentor and chaperone) for Deaflympics and World Deaf Swimming Championships, as well as the Australian Deaf Games.
She was awarded DSA life membership in 2016.
Lauren Johns
Lauren was involved in supporting sport coaching (Athletics) and administration of many Deaflympics and World Deaf Athletics Championships.
She was involved in the Australian Deaflympics team in 1985, 1989, 1993, 1997, 2001 & 2005 as athletics coach / manager. She loves athletics and loves to support the deaf community especially sports.
She was a coach of Sharon Gargan who represented Australia in 1977 and won gold in the 200m, bronze in the 100m & 400m.
She was also involved with the Australian Deaf Men's Football (soccer) team as a masseur at the various Asia/Pacific Deaf Football championships and Deaf Games.
She was awarded DSA life membership in 2010.
Wyndham Cooper OAM
(Deceased)
Wyndham has been an ADSF board member  from 1986 – 1994 and was awarded OAM in 1992.
He was awarded DSA life membership in 1993.